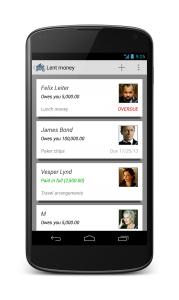 A while back I released a new, completely-rewritten version of LoanShark. The current version is 2.0.6 which contains a number of
bugfixes, and I consider it to be quite stable. I think writing this version took considerably more effort than the first one, or maybe I have just forgotten how much effort went into the first attempt.
There were problems with database migration code from the previous version. I've done away with some tables altogether to make things simpler, which necessitated writing quite a bit of migration code. Migration is both engaging and frustrating at the same time. On one side there's the need to evaluate the old and new database structures exactly and trying to figure out the simplest way to transfer old data to the new format. On the other side there's no way around writing migration code unless you want to make your app crash on your users' faces when they update to the latest version.
I thought I had ironed out the potential migration issues before releasing the first update, but there were several bug reports from users. I guess most of the users don't bother to send an error report when an app crashes on startup; they'll just uninstall it and be on their merry way. Fortunately it also seems that they don't even bother to write those nasty 1-star reviews either.
During last week I was contacted by two users who had crashing problems, one of which wasn't related to database migration. I'm very thankful for all feedback, even if it's crash reports. It gives me the extra kick in the backside that keeps me motivated to continue development.